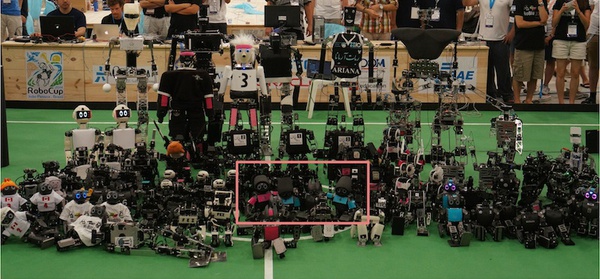 RoboCup humanoid league group picture. GMU robots shown in the red box.

GMU successfully completed its "personal challenge task" at RoboCup: to teach its team how to play collective soccer from scratch during the preparation time at the competition venue, rather than program it. This makes GMU quite different from other teams at RoboCup. Fast Company has written an article on the GMU team, complete with pictures. GMU won two games and lost two, and advanced to the final 16 in the Kid-Size Humanoid League.
Stats:
1-0 Win against AUTMan (Iran), the #1 seeded team
0-3 Loss to team Rhoban (France)
1-0 Win against the Newcastle Nubots (Australia)
1-6 Loss to MRL (Iran).
Posted 4 years, 7 months ago
---