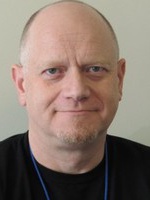 Marcel Katz
Adjunct Professor
Biography
Marcel Katz has twenty-five years of experience in the software field in a variety of positions mainly in customer facing roles, but also in software development, analysis and design, product management, customer training and application engineering.
Since his graduation from The Johns Hopkins University's Whiting School of Engineering in 1995 with an MS in Computer Science, he worked in several software engineering positions, starting as a software engineer and technical manager at Template Software Inc (NASDQ: TMPL) where he designed and used rapid-application-development frameworks to build prototypes and turnkey applications for both government and non-government customers. The technologies that he used and promoted included expert systems, application generators, object-to-relational database mapping tools, and inter-process communications components.
In the early 2000s Marcel continued his professional development in the role of software team lead at Northrop-Grumman Information Systems where he took part in a multi-year modernization project for the Internal Revenue Service as part of the IRS's Customer Account Data Agent where he led the data translation services team and was involved in the development of  XML parsing and compiling software suite that provided services to all other modules of the new Customer Account Data Agent software system.
In 2005 Marcel was a founding member of the US branch of Equivio Ltd., a self-funded start-up that developed AI-based and machine-learning products for text analytics, classification, and e-discovery, for the legal and litigation industry. In this capacity Marcel performed consulting and application support, and worked closely with customers and the engineering team to deploy and maintain the company's products at the customers' sites. The numbers of customers supported by Marcel and his team increased from 1 customer in 2005, to 200 customers in 2015, including e-discovery managed service providers and law firms. In addition he developed and performed training programs for the company's products, and developed test cases and software demos that were presented at customers' sites and at leading legal-technology professional conferences. In 2015 the company was acquired by Microsoft Corporation where Marcel continued in his roles of providing solutions for the Security and Compliance products that are part of Microsoft's Office 365 Suite and supported key customers such as General Motors, Xerox, Ricoh, US Attorney Offices, FEMA, EPA, and other large organizations.